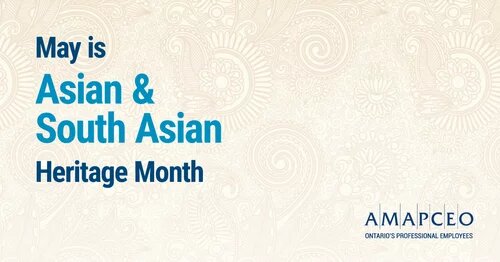 When
Monday, May 1, 2023 - 12:00 AM to 11:59 PM
During the month of May, Ontarians come together to reflect and celebrate the achievements and contributions of Canadians of Asian and South Asian descent from over 30 countries.

In 2002, the Government of Canada signed a declaration that designated the month of May as Asian Heritage month nationally to acknowledge the long and rich history of Asian Canadians. The people of this diverse, vibrant and growing community have contributed to every aspect of life in Canada — from the arts and science to sport, business, and government.
Asian Heritage Month offers all Canadians an opportunity to learn more about the history of Asian Canadians and to celebrate their contributions to the growth and prosperity of Canada.
Celebrate and promote equity and diversity within your union. Join the AMAPCEO Asian, Arab, Latinx Caucus »
---
Read our Asian and South Asian profiles »