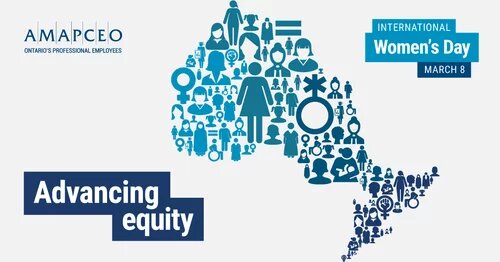 When
Wednesday, Mar 8, 2023 - 12:00 AM to 11:59 PM
The theme for IWD 2023 is #EmbraceEquity: "Imagine a gender equal world. A world free of bias, stereotypes and discrimination. A world that's diverse, equitable, and inclusive. A world where difference is valued and celebrated. Together we can forge women's equality. Collectively we can all #EmbraceEquity."
Join the AMAPCEO Women's Caucus »
Download AMAPCEO's IWD poster »
---
International Women's Day March
March 4 is the International Women's Day rally and march in Toronto, and AMAPCEO invites all our members to celebrate and show solidarity.
Women's Caucus Chair Zahra Bolouk will be representing AMAPCEO at the march on Saturday, March 4: https://iwdtoronto.ca/
All AMAPCEO members who want to march with the Women's Caucus are encouraged to contact Zahra at womenscaucus@amapceo.on.ca for details on when and where to meet. Keep your eyes out for the AMAPCEO flag!
---
Women's Caucus International Women's Day Writing Workshop with Irene Reilly
Join on March 6 at noon to explore writing in community to empower every voice, celebrate every story, and inspire the authentic voices of one and all in celebration of International Women's Day.
Irene Reilly was born in Glasgow, Scotland, and immigrated to Canada in 1984. She currently resides in Toronto. She is a non- fiction writer and a graduate of the University of Toronto's School of Continuing Studies Creative Writing Program. 
This event is open to all AMAPCEO members. RSVP to learn more and receive zoom information to join »
---
Resources
The Women's Caucus has selected the following resources to share with AMAPCEO members: