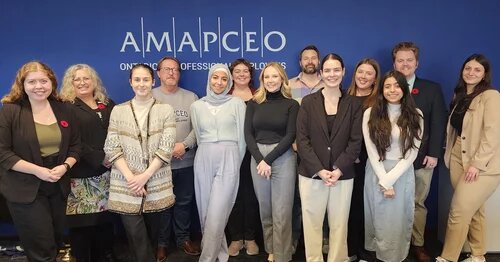 Wednesday, November 15, 2023
On Friday November 10, AMAPCEO hosted interns from the Ontario Legislative Intern Programme (OLIP). An equal opportunity programme with a highly competitive selection process, the OLIP consists of 10 students from across Canada who are selected to work with both government and opposition MPPs each year, from September 1 to June 30.

AMAPCEO's relationship with the OLIP spans more than a decade, with the union becoming a primary or premier sponsor over the last five years. OLIP holds Fall/Winter and Spring/Summer events that AMAPCEO headlines, drawing attendance of MPPs from all parties. In addition, every fall, interns visit the AMAPCEO office to learn about labour relations, government relations, and public administration.

"OLIP is nonpartisan internship providing these students practical experience with the daily workings of the Ontario Legislature while giving them a chance to learn about all sides of the political process," said President David Bulmer.
"AMAPCEO is proud to sponsor the next generation of policy makers and we want to ensure they appreciate the role of public servants and their bargaining agents."

Click here to learn more about the Ontario Legislature Internship Programme »