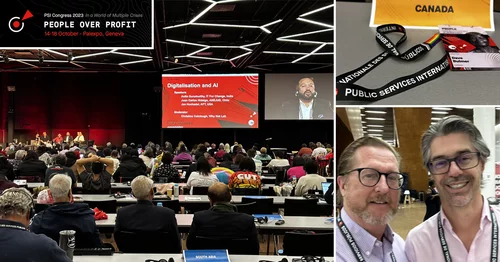 Wednesday, October 18, 2023
This past week, President David Bulmer attended Public Services International (PSI)'s 31st World Congress in Geneva. Bulmer represented AMAPCEO as part of the Canadian Delegation that included fellow Professional Unions' Network of Canada members. The PSI Congress participants included representatives from municipal, provincial/state and federal governments along with 1,200 union leaders from across the world, accounting for 100 nations from five continents.

The theme of this year's event was "People over Profit" which included topics such as:
Building inclusive unions;

Digitalization;

Privatization;

Public-Private Partnerships (P3s);

Rise of the right wing; 

and Constitutional Amendments.
Dave also took the opportunity to speak with the North American Region affiliates about hybrid/flexible work and innovations in bargaining (e.g., AMAPCEO's healthcare benefits).

"It was a great experience to be amongst so many great union leaders from Canada, North America, and worldwide.," said Dave. "Hearing that struggles are common whether in Toronto, Washington, Berlin, Stockholm, Buenos Aires or Tokyo, was reassuring in a couple of ways – it reminded me that we all share the same foundational concerns and, though we each have our challenges, we've all had our successes too."

- - - - -

Public Services International (PSI) is a Global Union Federation of more than 700 trade unions representing 30 million workers in 154 countries. The Federation brings voices to the United Nations, the International Labour Organization, the World Health Organization and other regional and global organizations; defends trade union and workers' rights; and fights for universal access to quality public services.

Learn more about PSI's 31st World Congress