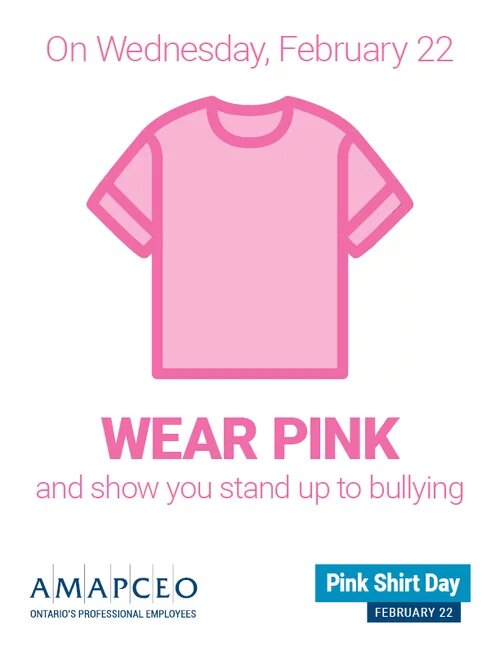 When
Wednesday, Feb 22, 2023 - 12:00 AM to 11:59 PM
Pink Shirt Day aims to raise awareness of and address bullying in our schools, workplaces, homes, and online. Wear pink on this day to show your support to help end bullying.
Pink Shirt day was inspired by teenagers David Shepherd, Travis Price and their friends when they organized a  school-wide movement to wear pink in empathy with a Grade 9 boy who was being bullied for wearing the colour, taking a strong stance against bullying.
With COVID-19 affecting us all, now more than ever, it is important to encourage healthy self-esteem, empathy, and kindness to one another. One in five kids is affected by bullying. Talk to your children about  celebrating the things that make us unique!
To get involved in this campaign, visit pinkshirtday.ca

(February 21, 2023 - AMAPCEO LGBTQ+ Caucus Pink Shirt Day Film Club Event.
Caucus members gathered to discuss Sarah Fodey's documentary: "The Fruit Machine"
and the history it uncovers).